Contact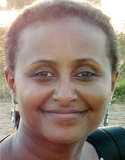 Dr. Eleni Yeshaneh Ayehu
eyeshaneh@waterresources.at
Publications
Yeshaneh, E., Salinas, J.L. and Blöschl, G. (2015) Decadal trends of soil loss and runoff in the Koga catchment, Northwestern Ethiopia. Land Degradation and Development, Accepted
Yeshaneh, E., Eder, A., and Blöschl, G. (2014) Temporal variation of suspended sediment transport in the Koga catchment, North Western Ethiopia and environmental implications. Hydrological Processes 28(24), 5972-5984.
Eleni Yeshaneh Ayehu
Research Interests
• Watershed hydrology
• Erosion and sedimentation
• Remote sensing and geographic information system (GIS) applications

Eleni's research interests are on remote sensing and GIS based watershed hydrology, erosion and sediment control, and water quality management.


Key Facts
Eleni graduated from the Doctoral Programme in February 2015 with a thesis on long-term environmental change assessment of a catchment in North Western Ethiopia. Her research was funded by the Future Generation Programme of the Schlumberger Foundation.
Prior to this she obtained a bachelors degree in Geology at Addis Ababa University, Ethiopia in 1995. She then completed a Master of Science in Geo-information Science and Earth observation specializing in Environmental Systems Analysis and Management at the International Institute for Aerospace Survey and Earth Sciences (ITC), The Netherlands. Her masters research study was on water quality assessment in the Malaga catchment in Spain. After competing her MSc studies she joined the Department of Geography and Environmental Studies at Addis Ababa University as a lecturer where she continues to work since graduating for her PhD.