Contact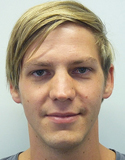 Domenico Savio
savio@waterresources.at
Tel.: +43-1-58801-166547
Centre for Water Resource Systems,
Vienna University of Technology,
Karlsplatz 13/222, A-1040 Vienna, Austria
Publications
Savio D., Sinclair L., Ijaz U.Z., Parajka J., Reischer G.H., Stadler P., Blaschke A.P., Blöschl G., Mach R.L., Kirschner A.K.T., Farnleitner A.H., Eiler A. (2015) Bacterial diversity along a 2600 km river continuum. Environmental Microbiology, 17(12), 4994-5007.
doi: 10.1111/1462-2920.12886
Domenico Savio
Research Interests
• Applied microbiology
• Water resource management
• Health related water quality targets
• Microbial population dynamics
• Symbioses within essential nutrient cycles

Domenico is a freshwater/microbial ecologist. He completed his diploma at the Department of Microbial Ecology, University of Vienna. For his diploma thesis he looked at the distribution and physiology of nitrifying bacteria in wastewater treatment plants. Domenico's research interests lie in the understanding of interactions between biotic and abiotic factors in freshwater systems and the exploration of anthropogenic influences on these systems caused by modern land-use and pollution. Within the Doctoral Programme Domenico is working in the field of aquatic microbiology under supervision of Prof. Dr. Andreas Farnleitner. His work focuses on investigating the prokaryotic population structure and dynamics in large river, backwater and groundwater systems by advanced molecular and bioinformatical tools. He will also evaluate the value of these tools for microbial water quality investigations and monitoring.

Key Facts
Domenico studied Biology at the University of Vienna and specialized in Ecology with a main focus on Microbial Ecology and Limnology. He obtained his "Magister" degree in November 2011. The topic of his diploma thesis was "Analyses of the Microdiversity and Physiology of Nitrite-Oxidizing Bacteria in the Genus Nitrospira". Domenico is also very interested in other fields of ecology and beyond. Therefore, he fulfilled his civilian service in the field of environmental protection in an environmental organization working on legal aspects of the implementation of the European habitats directive.