Contact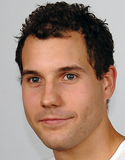 Dr. Franz Bamer
fb@allmech.tuwien.ac.at
Tel.: +43-1-58801-20118
Institute of Building Construction and Technology,
Vienna University of Technology, Karlsplatz 13/E2063, A-1040 Vienna, Austria
Franz Bamer
Research Interests
• Structural Mechanics
• Model Reduction in Structural Dynamics
Franzi Bamer's research interests focus on model reduction in structural dynamics using methods such as modal analysis or principal component analysis.


Key Facts
Franz graduated in 2014 with a PhD on, "Stochastic modelling of wind loads and their influences on reliability based design of wind energy converters," under the supervision of Prof. Christian Bucher. Prior to this he obtained his diploma degree for civil engineering at the Technical University of Vienna in 2004 and then worked at Linz Centre of Mechatronics, University of Linz, for eight months.