Contact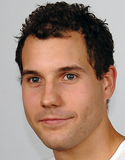 Dr. Franz Bamer
Institute of General Mechanics, RWTH Aachen
Publications
Bamer, F., Bucher, C. and Kazemi Amiri, A. (2017) A new model order reduction strategy adapted to nonlinear problems in earthquake engineering. Earthquake Engineering and Structural Dynamic, 46(4), 537-559.
Bamer, F. and Bucher, C. (2012) Application of the proper orthogonal decomposition for linear and nonlinear structures under transient excitations. Acta Mech. Acta Mech, 223, 2549–2563.


Franz Bamer
Research Interests
• Structural Mechanics
• Model Reduction in Structural Dynamics
Franzi Bamer's research interests focus on model reduction in structural dynamics using methods such as modal analysis or principal component analysis.


Key Facts
Franz obtained his diploma degree for civil engineering at the Technical University of Vienna in 2004 and then worked at Linz Centre of Mechatronics, University of Linz, for eight months. In 2010 he joined the Vienna Doctoral Programme on Water Resource Systems and graduated in 2014 with a PhD on, "Stochastic modelling of wind loads and their influences on reliability based design of wind energy converters," under the supervision of Prof. Christian Bucher. He then took up a post-doctoral research position at RWTH Aachen.