Contact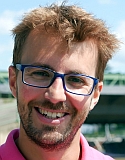 Martin Hasenhündl
martin.hasenhuendl@tuwien.ac.at
Tel.: +43-1-58801-22242
Centre for Water Resource Systems,
Vienna University of Technology,
Karlsplatz 13/222, A-1040 Vienna, Austria
Martin Hasenhündl
Research Interests
• Hydraulic engineering
• Sediment transport
• Turbidity currents
• Subaerial and subaquatic morphology
Martin's research interests are in hydraulic engineering and sediment transport in particular. For his PhD he is working on turbidity currents in lakes and oceans and the associated underwater canyons and channels. Acoustic Doppler Current Profiler (ADCP) velocity data are analysed to gain insight into turbidity currents and bathymetric data are used to understand their impact on morphology. For the evaluation of the morphology he has developed a universal Matlab script which is applied to different systems. He is analysing field measurements from Lake Geneva and the Congo Canyon in the Atlantic, for which he also took part in a research cruise in the Atlantic under the leadership of British colleagues.

Key Facts
Martin completed his Bachelor's and Master's degrees in civil engineering at TU Wien. During his Master's studies he spent one semester at TU Delft in the Netherlands, where he also discovered his interest in hydraulic engineering. As such, he chose to write his diploma thesis in the field of hydraulics which he completed in 2016. After two years work experience in an engineering office, he came back to TU Wien in 2018 to undertake his PhD.