Contact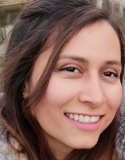 Carol Tamez Melendez
carol.tamezmelendez@list.lu
Tel.: +43-1-58801-406653
Centre for Water Resource Systems,
Vienna University of Technology,
Karlsplatz 13/222, A-1040 Vienna, Austria
Carol Tamez Melendez
Research Interests
• Isotope hydrology
• Flash floods mechanisms
•Climate change impact assessment
• Groundwater and surface water quality


Carol's interest in hydrogeology started when she worked at the Water Centre for Latin America and the Caribbean, where she became engaged in water quality projects in rural areas. Her experience includes analysing sea water intrusion in coastal aquifers, studying groundwater-rock interaction through hydro-geochemistry and detecting the origin of groundwater using stable isotopes. In her master thesis she determined the origin of salinity in waters in different regions of Germany. She also participated at international conferences and published papers related to isotope hydrology and water quality.
Key Facts
Carol obtained a bachelor degree in Forest Engineering at the Autonomous University of Nuevo Leon in Mexico, 2012. She then graduated in 2018 with a Master degree in Hydrogeology and Environmental Sciences at the University of Georg-August in Göttingen, Germany. She is now part of the Doctoral Training Unit at the Luxembourg Institute of Science and Technology in cooperation with the University of Luxembourg and the Vienna University of Technology.