Contact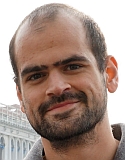 Daniel Trauner
daniel.trauner@tuwien.ac.at
Tel.: +43-1-58801-20118
Institute of Building Construction and Technology,
Vienna University of Technology, Karlsplatz 13/E2063, A-1040 Vienna, Austria
Daniel Trauner
Research Interests
• Structural Reliability
• Structural Optimization
• Stochastic Finite Element Methods
• Numerical Fluid Dynamics
Daniel joined the doctoral programme in November 2017. His research interests focus on the Spectral Stochastic Finite Element Method and its application on problems of structural mechanics and dynamics.
Key Facts
Daniel studied Mechanical Engineering at the Vienna University of Technology, obtaining his bachelor's degree in March 2016 and his master's degree in October 2017 with focus on Finite Element Methods and Numerical Fluid Dynamics. He wrote his master's thesis in the latter field with the title "Modelling and simulation of the flow through the backflow barrier of a screw extruder ".