Contact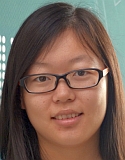 Jie Zhao
zhao@waterresources.at
Centre for Water Resource Systems,
Vienna University of Technology,
Karlsplatz 13/222, A-1040 Vienna, Austria
Publications
Zhao, J. and Floricioiu, D. 2017. The penetration effects on TanDEM-X elevation using the GNSS and laser altimetry measurements in Antarctica. The International Archives of the Photogrammetry, Remote Sensing and Spatial Information Sciences, 42(W7), 1593-1600.
Jie Zhao
Research Interests
• Flood delineation
• Probabilistic analysis
• Time series analysis
Jie's research focuses on studying flood mapping based on remote sensing, at the global scale. She is interested in the delineation of the flood region and the uncertainties in flood mapping.
Key Facts
Jie obtained a bachelor degree in Engineering of Surveying and Mapping at Beijing University of Civil Engineering and Architecture (BUCEA), China. She then completed a Master of Engineering in Photogrammetry and Remote Sensing at Wuhan University (WHU), China and a Master of Science in Earth Oriented Space Science and Technology at the Technical University of Munich (TUM), Germany. Her thesis topic was "Assessment of SAR signal penetration effect on TanDEM-X elevations in Antarctica with laser altimetry and GNSS measurements". She joined the Vienna Doctoral Programme in November 2017 as a joint PhD candidate between the Technical University of Vienna and Luxembourg Institute of Science and Technology (LIST) Doctoral Training Unit in Water Sciences: Hydro-CSI (www.list.lu/en/research/project/hydro-csi/). She will complete her thesis on flood mapping using data collected by optical and microwave remote sensing.