Contact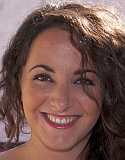 Concetta Di Mauro
dimauro@waterresources.at
Tel.: +33-618883896
Centre for Water Resource Systems,
Vienna University of Technology,
Karlsplatz 13/222, A-1040 Vienna, Austria
Concetta Di Mauro
Research Interests
• Catchment hydrology
• Hydrological/hydraulic modelling
• Flood risk mitigation
• Water resources management
Concetta's research interests are hydrological/hydraulic modelling with a main focus on surface flow modelling and flood risk mitigation. In her diploma thesis, she worked on the enhancement of the spatially distributed Superflex hydrological model for applications at a large scale. In October 2017, she joined the Vienna Doctoral Programme on Water Resource Systems as a joint PhD candidate between the Technical University of Vienna and Luxembourg Institute of Science and Technology (LIST) Doctoral Training Unit in Water Sciences: Hydro-CSI (www.list.lu/en/research/project/hydro-csi/). Her Ph.D. will focus on the assimilation of satellite derived flood extent maps into hydraulic models.
Key Facts
Concetta obtained her Bachelor's degree in Environmental Engineering at the University of Naples "Federico II", Italy. She completed her first Master of Science in Environmental Engineering with a focus on hydro-geological risk at the same university. Afterwards, she completed her second Master of Science in Hydraulic and Civil Engineering at the ENSE3 of the INP (Institut Polytechnique) of Grenoble, France. She carried out her internship at the Luxembourg Institute of Science and Technology (LIST).
During the internship, she implemented various routing functions to further enhance the Superflex hydrological model and to better simulate flood wave propagation in the Murray-Darling basin in Australia. The 1D routing functions were implemented using Arc-GIS and MATLAB. To evaluate the hydrological model performance, satellite soil-moisture and in situ discharge observations were used.