Contact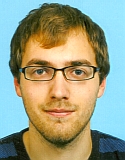 Lovrenc Pavlin
pavlin@waterresources.at
Tel.: +43-1-58801-22330
Centre for Water Resource Systems,
Vienna University of Technology,
Karlsplatz 13/222, A-1040 Vienna, Austria
Lovrenc Pavlin
Research Interests
• Groundwater modelling
• Flow connectivity
• Geophysics for hydrogeology

Lovrenc's master's thesis work involved modelling the effect of ship's propeller wash on the seabed. A numerical model was developed for the shallow Gulf of Koper, where the biggest Slovenian port, Luka Koper, can be found. Currently he applies his experience with modelling to groundwater. Based on data from geophysical surveys, he studies groundwater flow connectivity and how temporal variability of fluxes propagate through the groundwater system.
Key Facts
Lovrenc obtained his bachelor degree in Physics from University of Ljubljana, Slovenia. During his studies, he gained interest in water research and continued his studies with an interdisciplinary Master's programme in Geophysics with a module on Hydrology at the same university. He graduated in May 2017 with a thesis titled: Modelling the effect of the propeller wash on velocities at the seabed. He joined the Vienna Doctoral Programme on Water Resource Systems in June 2017.