Contact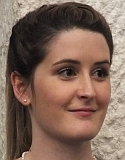 Dr. Miriam Bertola
bertola@waterresources.at
Tel.: +43-1-58801-22333
Centre for Water Resource Systems,
Vienna University of Technology,
Karlsplatz 13/222, A-1040 Vienna, Austria
Miriam Bertola
Research Interests
• Flood frequency analysis
• Flood change attribution
• Bayesian statistics
• Hydrological extreme events
Miriam studied hydraulics and hydrology at the Polytechnic University of Turin, with a focus on extreme hydrological events, risk assessment for natural hazards and geotechnical issues. In her master thesis, she analysed the statistical properties of extreme precipitation events simulated by Regional Climate Models over the European domain. Her current studies focus on the attribution of flood change to atmospheric, catchment and river drivers.


Key Facts
Miriam obtained her bachelor degree in Civil Engineering at the Polytechnic University of Turin, Italy, in October 2014. During her master studies in Civil Engineering at the same university, she specialised in hydraulic and hydrology and attended the Alta Scuola Politecnica, a double degree programme with Polytechnic University of Milan. After spending one semester at the University of Hamburg, Germany, for her master thesis, Miriam graduated magna cum laude in March 2017 and joined the Vienna Doctoral Programme on Water Resource Systems in April 2017.