Contact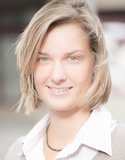 Helene Trautvetter
htrautvetter@iwag.tuwien.ac.at
Tel.: +43-1-58801-22634
Centre for Water Resource Systems,
Vienna University of Technology,
Karlsplatz 13/222, A-1040 Vienna, Austria
Helene Trautvetter
Research Interests
• Soil and water monitoring of priority substances of the Water Framework Directive such as
flame retardants, impregnating agents, metals and other groups like Polyaromatic
Hydrocarbons
• Emission pathways of nutrients and priority substances into surface waters
• Influence of catchment specific properties on emission loads of these substances



Helene is an environmental engineer who has worked on various projects concerning river water quality and river management. After completing her studies at the University of Stuttgart, she moved to the Vienna University of Technology where she started research on emission loads and pathways of specific priority substances into Austrian rivers. The aim of her PhD is to identify the main emission pathways in rural catchments and to understand river loads and concentrations as a function of land use.


Key Facts
Helene obtained a diploma in Environmental Engineering from the University of Stuttgart. Her thesis title was "Assessment and description of the chemical and physical state of a natural river in a tropical catchment in South China, Xishuangbannah". In 2014 Helene joined the Institute of Water Quality, Resources and Waste Management at the Vienna University of Technology. In 2016 she joined the Vienna Doctoral Programme on Water Resource Systems.