Contact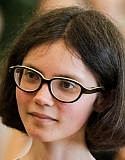 Dr. Julia Tanzer
tanzer@waterresources.at
Julia Tanzer
Research Interests
• Resource protection
• Soil and water management
• Climate change

Julia studied civil engineering and water management, involving hydrology, hydraulic engineering, soil-water-relationships, traffic and transport planning, risk management and resource protection. She also completed a master programme in environmental sciences, where her main focus was on climate change.
She authored two Master theses, one of them on historical morphological changes of the southern Danube tributaries in Vienna between 1755 and 2010, and the other on testing soil mixtures for road runoff treatment.
Key Facts
Julia obtained her bachelor degree in Civil Engineering and Water Management at the University of Natural Resources and Applied Life Sciences (BOKU) in Vienna in 2012. She continued her master studies on the same subject and graduated in 2016. In 2015, she also obtained a master degree in the international programme Environmental Sciences – Soil, Water, Biodiversity (EnvEuro). During her studies, Julia spent one year (2012/13) at the Czech University of Life Sciences in Prague and one year (2014/15) at the University of Copenhagen, Denmark, where she also wrote her thesis.