Contact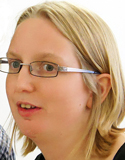 Martine Broer
broer@waterresources.at
Tel.: +43-1-58801-406662
Centre for Water Resource Systems,
Vienna University of Technology,
Karlsplatz 13/222, A-1040 Vienna, Austria
Martine Broer
Research Interests
• Rainfall run-off generation
• Land-atmosphere interaction
• Hydrologic processes in catchments
• Surface groundwater interactions

Martine works in the fields of soil science, hydrology and micro-meteorology. For her masters thesis she conducted digital soil mapping in Costa Rica in cooperation with Corbana (Corporación Bananera National) and Prof. Jetse Stoorvogel. Martine also completed a masters thesis on groundwater flow in a catchment in Tuhringia, Germany. The research focussed on temporal hydrologic influences on the gravity signal measured by the Geodynamic observatory located in the catchment. She undertook an internship in Switzerland at the Institute for Snow and Avalanche Research and worked on energy and mass balances in snow covered forests.


Key Facts
Martine obtained a bachelors degree in Soil, Water and Atmosphere at Wageningen University, Netherlands in 2007. She then went on to complete a Masters degree in Soil Science and Hydrology in 2009, also at Wageningen University. During her studies she has developed a great interest in multi-disciplinary research in the fields of hydrology, soil science and micro-meteorology.